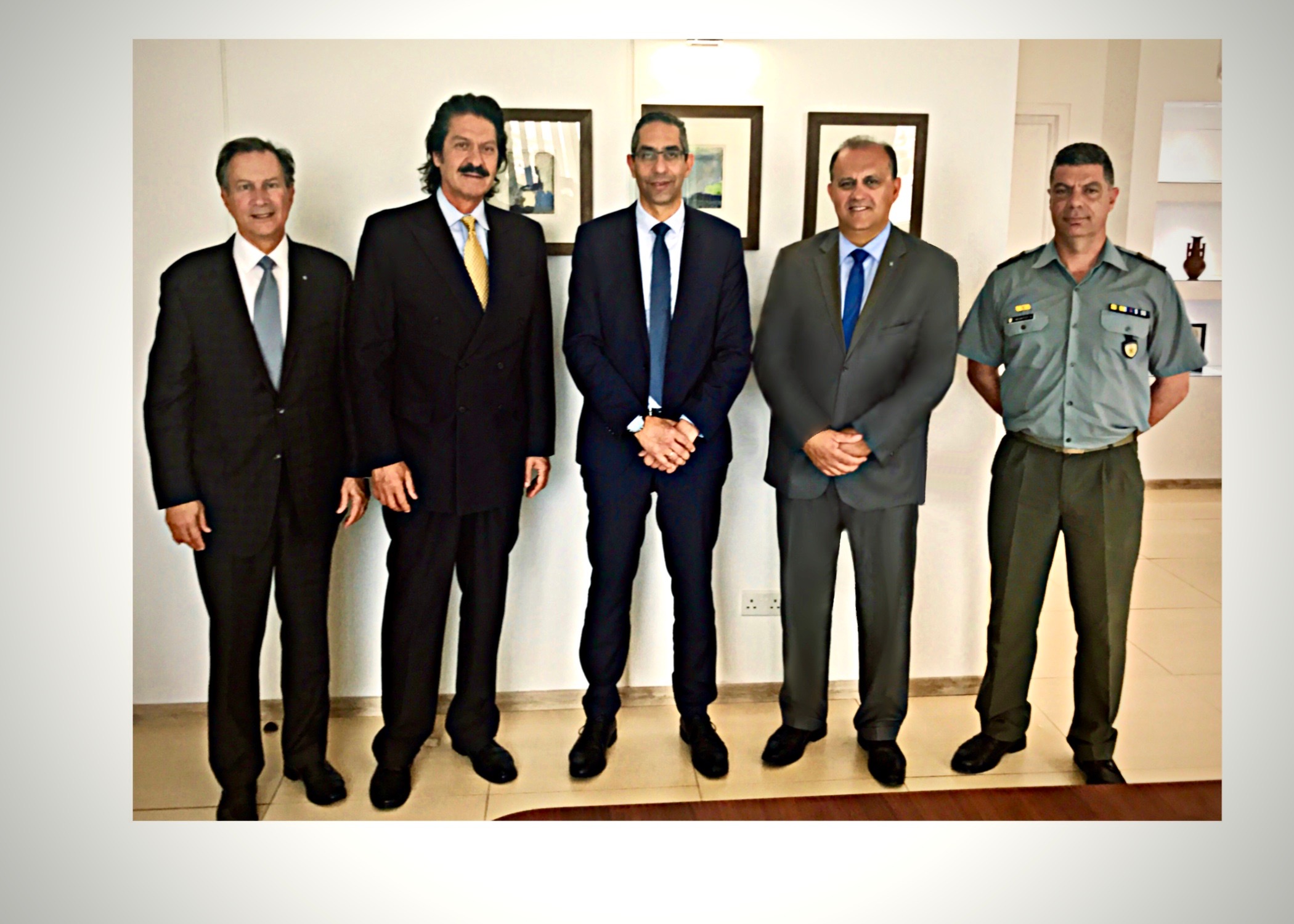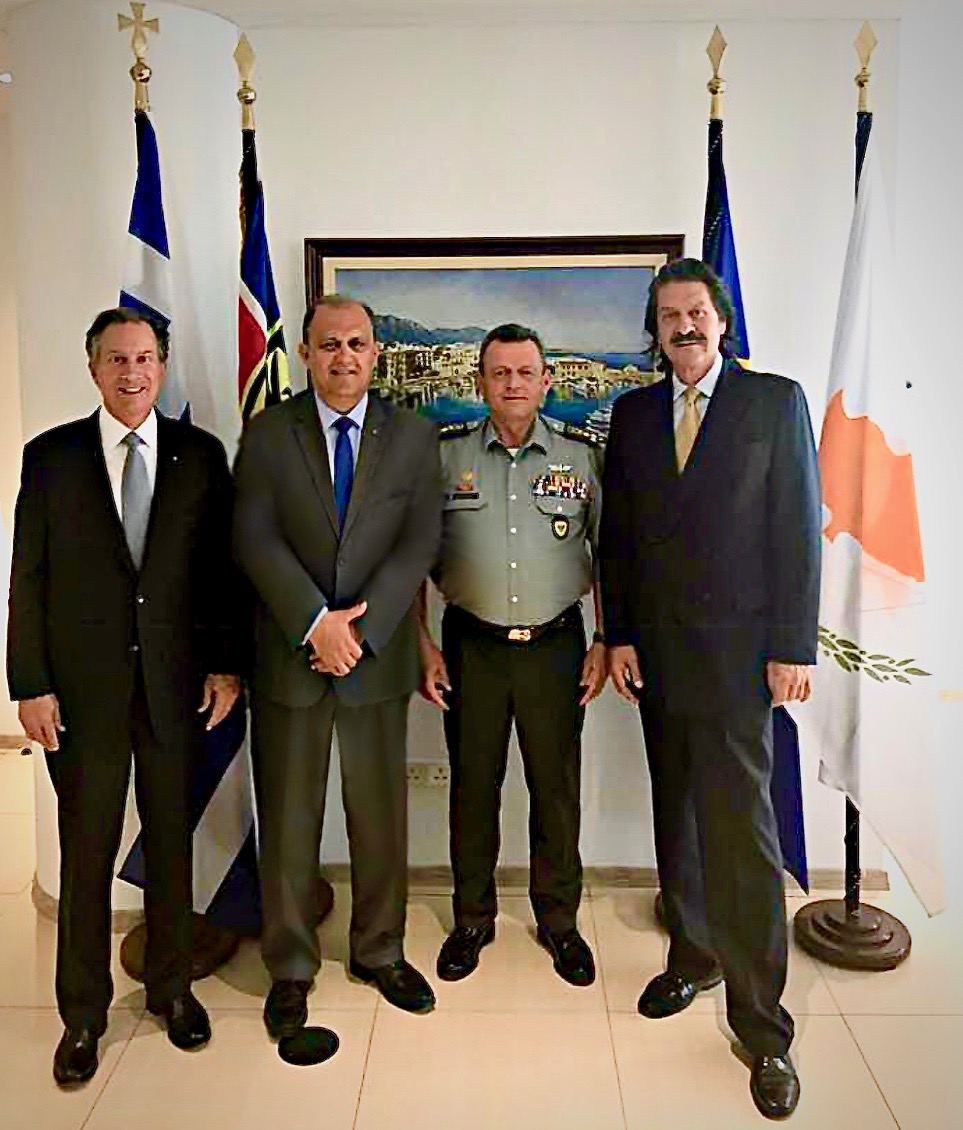 NO. 21
Strengthening the bilateral relations between the United States and Cyprus is one of the main pillars of the American Hellenic Institute (AHI). AHI Delegations have been visiting Cyprus at least once a year to acquire high level briefings from Cypriot and US Government officials. These meetings have served as an effective platform communicating issues of concern, facilitate dialogue and cooperation on bilateral level with the United States as well as regional cooperation within the wider Mediterranean area. Acquiring an in-depth knowledge of these issues by both US and Cyprus high level officials enables AHI to engage in advocacy of specific courses of action strengthening bilateral and regional cooperation as well as providing peace, stability and security in Eastern Mediterranean. This year the AHI Delegation, comprised of President Nick Larigakis, andBoard Members Kostas Alexakis and Leon Andris, took place on May 2nd, and 3rd, 2019.
The focus of the meetings was the elevated Turkish aggression in the Eastern Mediterranean and threats to drill in the Cypriot exclusive economic zone (EEZ). AHI was commended for its continued advocacy keeping the Cyprus issue highly visible with key policymakers in the Administration and in the U.S. Congress as well as AHI's firm message to US Government officials that Turkey must be held accountable for its actions.
Energy cooperation constituted an essential component of the meetings as well. AHI was briefed on the progress being made in the exploration for hydrocarbon reserves, agreement with foreign companies and regional energy cooperation initiatives in the Eastern Mediterranean.
The humanitarian aspect of the 1974 Turkish invasion has been of vital importance to AHI. About 1500 people both military personnel as well as civilians including women and children, were either captured by the invading Turkish armed forces during July and August of 1974, or disappeared long after the cessation of hostilities in the areas under the control of the Turkish army. Discussions this year focused on the 2019 action plan for fallen and missing persons, which was approved recently by the Cabinet which has intensified Cypriot efforts to raise awareness about the humanitarian issue of missing persons, while working to improve internal coordination between competent authorities.
AHI is grateful to U.S. Ambassador to the Republic of Cyprus Judith Garber, President of the House of Representatives Demetris Syllouris, Commissioner to the Presidency for Humanitarian Affairs and Overseas Cypriots Fotis Fotiou, Minister of Foreign Affairs Nicos Christodoulides, Minister of Defense Savvas Angelides, Hydrocarbons Service Director of the Ministry of Energy, Commerce, Industry, and Tourism Dr. Stelios Nicolaides; and, Chief of the National Guard General Staff Lt. General Ilias Leontaris, for taking the time to meet with the AHI Delegation and provide AHI the opportunity to support US, Cypriot and regional efforts to strengthen peace, security and stability in Eastern Mediterranean.
The June 6, 2019 letter of Acting US Secretary of Defense Patrick Sanahan, setting out the ultimatum in a letter to his Turkish counterpart, Hulusi Akar that Turkey could not have both America's F-35 advanced fighter jets and Russia's S-400 systems, coupled with US Deputy Assistant Secretary for European and Eurasian Affairs, Matthew Palmer's statement during his visit to Cyprus this week emphasizing that the US has made clear to that it considers Turkey's announced intentions to begin drilling in the Eastern Mediterranean provocative and has encouraged Turkey to stop, constitute clear messages that the United States is prepared to stop Turkey from becoming an uncontrolled force of disruption in the Middle East and wider Mediterranean region.
Read Secretary Sanahan's Letter